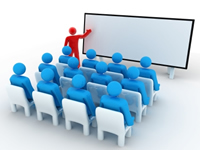 The movies below provide an insight into the APT Methodology, the online project management and information systems methodology that has helped hundreds of organisations bring control and predictability to their information systems projects.
An Introduction to APT Online
The APT Methodology is a full life cycle Methodology incorporating all the phases in the Information Systems project lifecycle. This movie provides a high level overview of the structure of APT Online, the online version of the APT methodology.
View now (3 min 5 sec playtime)
The Methods Inside APT Online
The methods are the real 'heart' of the APT Methodology. This movie looks at how the methods are presented and the type of information contained within each of the phases of the APT Methodology.
View now (3 min 40 sec playtime)